Note: This report is a product of, and completely owned by, Galaxy Research. It was originally published on Galaxy's official website here:
Over $1.8bn worth of royalties have been paid out to creators of Ethereum-based NFT collections. In addition, the average royalty percentage paid out to creators on OpenSea, the platform that has paid out the most royalties to creators by far, has doubled from 3% to 6% over the past year. Major brands in NFTs, across both legacy players and crypto-native organizations, have raked in hundreds of millions of dollars in income from royalties generated on secondary sales. In fact, just 10 entities accounted of 27% of all royalties earned and 482 NFT collections accounted for 80% of all royalties earned thus far. Yet recent pushback against the royalty model in the broader crypto community is poised to threaten what was once posited as a core value proposition of NFTs. The reality is that royalties aren't a primitive that inherits the same on-chain permanence that has been taken for granted in the crypto space.
Our Methodology
How Royalties Work Today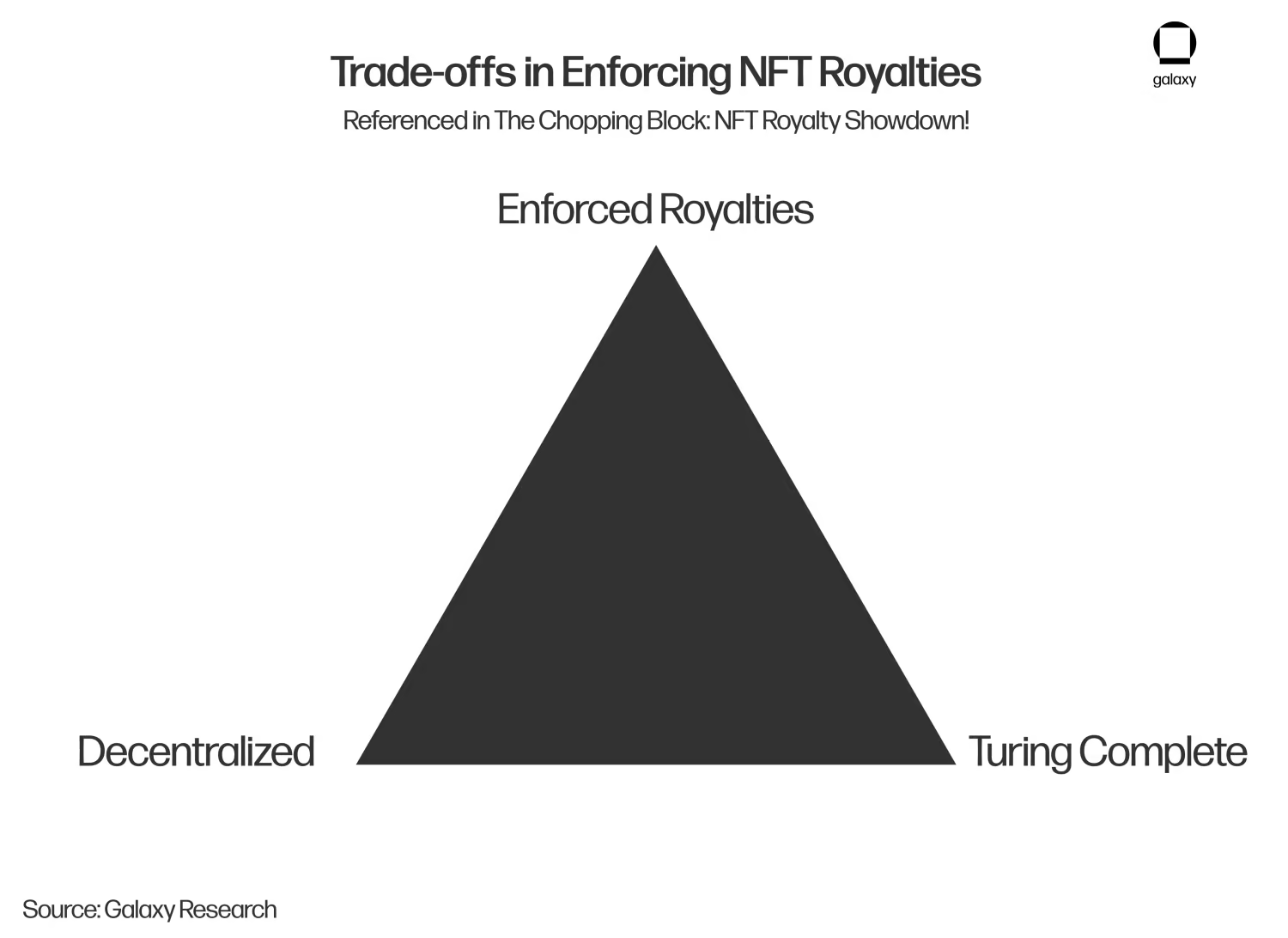 Due to the technical difficulties in enforcing royalties at the smart contract level, they are instead enforced by NFT marketplaces. In other words, royalties are socially enforced by norms, and marketplaces are effectively choosing to support the ongoing funding of creators by collecting and disbursing royalties on their behalf (similar to tipping). Thus, the majority of NFT marketplaces have implemented bespoke royalty payment solutions in order to entice creators with the promise of ongoing revenue streams. This was important in the early days of NFTs as protocols needed to appease both sides of the marketplace, creators and collectors. Now that the NFT space has matured substantially in the last 2 years, marketplaces have adapted accordingly. As stated above, some marketplaces like SudoSwap have eliminated royalty payments entirely to attract as much liquidity as possible.
OpenSea currently accounts for 80%+ of NFT marketplace volume, and their method for royalty distribution is the most common framework implemented by marketplaces today. In this framework, creator royalties are defined at the collection level and must be set up within OpenSea's collection-level settings by the collection owner. During this process, the creator will also associate a wallet address with the collection which will be designated to receive accrued royalties from OpenSea at regular intervals (usually every couple of weeks). Royalties generally range from 2.5% up to a limit of 10% of the final sale price. The seller always pays both the royalties and the trading fee collected by OpenSea on each trade. These fees are typically extrapolated away, with buyers simply paying the amount quoted by OpenSea as the NFT's price (or the winning auction bid) plus gas fees.
Introduction
On the one hand, NFT royalties are an avenue through which creators can generate additional income from the ongoing success of their work. This business model has been particularly advantageous for digital artists and musicians, who have historically struggled to recoup profits from traditional channels of distribution such as galleries and record labels. On the other hand, there is a growing belief among some in the crypto community that NFTs should be owned entirely by their buyers, and that royalty payments to creators are unfair and extractive. Crucially, NFT royalties are currently enforced by the marketplaces themselves, not hard-coded into the issuing smart contracts. The decentralized nature of the crypto space has birthed a variety of NFT marketplace structures which posit royalty-free NFT trading as a core value proposition.
There are compelling arguments on both sides of this debate. While royalties have proven to be a lucrative revenue stream for collection owners, they are unenforceable at the smart contract level as demonstrated by the rise of royalty-free marketplaces. The NFT community appears to be split on the ideology underpinning royalties, with some positioning royalties as beneficial for an NFT ecosystem's health and others lamenting royalties as exploitative and unnecessary. Given the massive stakes at play in terms of potentially lost revenue streams, this issue has the potential to leave long-lasting impacts on the NFT space for years to come. In this report, we will examine the issue of NFT royalties from multiple perspectives and suggest how we see this key issue will materialize.
A Brief History of NFT Royalties
NFT royalties are a relatively new phenomenon when compared to the age of the NFT space itself. CryptoPunks, considered to be the godfather of the 10,000 item generative PFPs, never instituted royalties when they debuted in 2017. The official CryptoPunks exchange, the only marketplace where Punks are traded, still do not enforce any royalties on secondary sales. Larva Labs, the creator of CryptoPunks, opted for an alternative business model where they chose to instead hold 1,000 Punks on their balance sheet, selling these Punks off sporadically to generate revenue.
Yuga Labs then stormed onto the NFT scene with their Bored Ape Yacht Club collection in mid-2021 and, in the process, demonstrated the economic allure of a royalty-driven business model. While BAYC only generated $2.2mn in primary sales when they launched in May 2021, the collection has since earned Yuga Labs $54m in secondary sales revenue by way of BAYC's 2.5% royalty on every transaction. Yuga Labs has earned a staggering ~$140m in royalties from all their collections to-date. Other NFT projects took note of Yuga's success and instituted 2.5% royalties as standard practice. As the NFT market continued to heat up throughout the second half of 2021, the industry standard of 2.5% soon jumped up to 5% (on the backs of collections like Azuki, Doodles, CloneX, and Moonbirds). Yuga Labs capitalized on this trend towards higher royalties when they launched their Otherdeeds collection with a 5% royalty and switched Meebits from a 0% royalty to a 5% royalty. Otherdeeds alone has yielded the company $44m in secondary sales revenue since its launch in April 2022.
As the broader bear market has punished NFTs in both price and volume, the users are more price-sensitive than ever before. The market has also started to push back against collections earning ongoing revenue, by way of royalties, despite not delivering on their ambitious visions. This brewing resentment towards royalties, along with some recent innovations in marketplace structure, have ultimately ignited a surge of activity on royalty-free NFT marketplaces.
How Did We Get Here?
It's interesting to note that the Solana NFT ecosystem has been more sensitive to this ongoing royalty debate than the Ethereum NFT ecosystem, as evidenced by the massive shift in market share away from Magic Eden before their move to eliminate royalties, while the magnitude of OpenSea's market share loss to zero-royalty marketplaces was much smaller. One possible explanation is the more mercenary nature of Solana NFT traders who tend to be flippers cognizant of their margins rather than longer term holders and retail users. On the Ethereum side, there are far more high USD value collections, like Fidenzas and Punks, which attract a class of buyer that is perhaps more interested in signaling status and storing value in these rare collectibles than flipping them for quick profit. In other words, these high-net-worth users are not sweating the royalty fee enacted on each sale.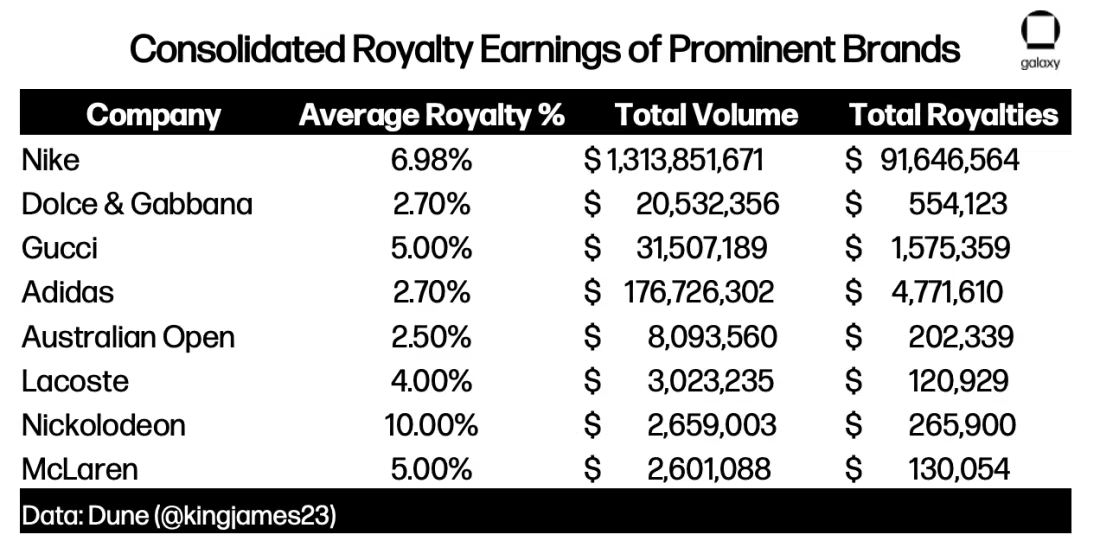 The Debate
In the ongoing royalty wars, two leading schools of thought have emerged. Those in favor of royalties point to the potential for creators to earn more money over time as their projects become more popular. This is because projects often start with low primary sales, but gain popularity in the months following release. DeGods and BAYC are two clear examples of NFT collections with small primary sale numbers before catapulting into the upper echelons of their respective ecosystems in less than a year. Proponents of royalties worry that normalizing the their removal will return the NFT space to the dark ages of traditional creator incentive structures, as Van Gogh experienced.
Several major NFT players have offered solutions to address and/or augment royalty enforcement.
Initial Noteworthy Responses:
Tyler Hobbs' QQL mint card project is the first major NFT project to prevent transacting on 0% royalty fee marketplaces at the smart-contract level. This function is performed through a blacklist filter contract, which checks if the msg.sender (the person trying to buy the NFT) is on a blocked list of users before allowing them to complete their purchase. If the msg.sender recipient detects a blacklisted user, the transaction will automatically fail. Hobbs added existing anti-royalty marketplaces to the blacklist. The QQL project has brought attention to the idea that if NFT marketplaces have the privilege to decide whether to follow the royalty system, then NFT creators should also have the privilege of deciding which marketplaces can sell their artwork.
Although Magic Eden has since reversed course, they initially attempted to combat the 0% royalty movement with a tool called MetaShield. This new optional feature allows creators to track and identify Solana native NFTs listed on 0% royalty platforms such as Yawww. Through MetaShield, the creators of these projects can deliberately modify the metadata for the NFTs that are attempting to bypass royalty payments. Not only can the MetaShield tool blur or erase NFT images, but it also creates an accountability system for buyers. If a buyer purchases an NFT that has bypassed royalties and is shielded, the buyer will rack up a debt for the unpaid royalty. The debt must be paid to "unshield" the NFT's image. Though Magic Eden received backlash for this buyer accountability system, the company clarified that this was put in place to incentivize recognition of creator rights.
Outlook, Conclusion, & Potential Solutions
As NFTs continue to evolve, the future of royalties hangs in the balance. While the numbers suggest that Ethereum NFTs still have a strong contingent of users willing to pay royalties, the royalty-free marketplaces have shown impressive growth in a short period of time. One thing is certain: the future of NFT creator income hangs in the balance as industry stakeholders weigh the pros and cons of this contentious issue. Only time will tell if creators continue to reap benefits from secondary sales, or if they will lose out on potential income in favor of a "pure" ownership model. As this dynamic market continues to grow and mature, it will be interesting to watch how stakeholders carefully consider potential long-term solutions to this ongoing battle. Some potential solutions include:
Galaxy Legal Disclosure

Legal Disclosure:

This document, and the information contained herein, has been provided to you by Galaxy Digital Holdings LP and its affiliates ("Galaxy Digital") solely for informational purposes. This document may not be reproduced or redistributed in whole or in part, in any format, without the express written approval of Galaxy Digital. Neither the information, nor any opinion contained in this document, constitutes an offer to buy or sell, or a solicitation of an offer to buy or sell, any advisory services, securities, futures, options or other financial instruments or to participate in any advisory services or trading strategy. Nothing contained in this document constitutes investment, legal or tax advice or is an endorsement of any of the stablecoins mentioned herein. You should make your own investigations and evaluations of the information herein. Any decisions based on information contained in this document are the sole responsibility of the reader. Certain statements in this document reflect Galaxy Digital's views, estimates, opinions or predictions (which may be based on proprietary models and assumptions, including, in particular, Galaxy Digital's views on the current and future market for certain digital assets), and there is no guarantee that these views, estimates, opinions or predictions are currently accurate or that they will be ultimately realized. To the extent these assumptions or models are not correct or circumstances change, the actual performance may vary substantially from, and be less than, the estimates included herein. None of Galaxy Digital nor any of its affiliates, shareholders, partners, members, directors, officers, management, employees or representatives makes any representation or warranty, express or implied, as to the accuracy or completeness of any of the information or any other information (whether communicated in written or oral form) transmitted or made available to you. Each of the aforementioned parties expressly disclaims any and all liability relating to or resulting from the use of this information. Certain information contained herein (including financial information) has been obtained from published and non-published sources. Such information has not been independently verified by Galaxy Digital and, Galaxy Digital, does not assume responsibility for the accuracy of such information. Affiliates of Galaxy Digital may have owned or may own investments in some of the digital assets and protocols discussed in this document. Except where otherwise indicated, the information in this document is based on matters as they exist as of the date of preparation and not as of any future date, and will not be updated or otherwise revised to reflect information that subsequently becomes available, or circumstances existing or changes occurring after the date hereof. This document provides links to other Websites that we think might be of interest to you. Please note that when you click on one of these links, you may be moving to a provider's website that is not associated with Galaxy Digital. These linked sites and their providers are not controlled by us, and we are not responsible for the contents or the proper operation of any linked site. The inclusion of any link does not imply our endorsement or our adoption of the statements therein. We encourage you to read the terms of use and privacy statements of these linked sites as their policies may differ from ours. The foregoing does not constitute a "research report" as defined by FINRA Rule 2241 or a "debt research report" as defined by FINRA Rule 2242 and was not prepared by Galaxy Digital Partners LLC. For all inquiries, please email contact@galaxydigital.io. ©Copyright Galaxy Digital Holdings LP 2022. All rights reserved.